Hair Extensions
Star Product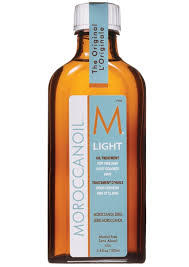 At this time of year with upwards of 80% ambient humidity the real challenge of keeping a smooth, unruffled appearance is put to the test.
No matter how nicely I press my shirt before wearing it I only need to sit in a chair somewhere under air-conditioned, and the back of my shirt will end up looking like I wore it to bed last night.

Same thing happens with hair, even those of us with naturally smooth, problem free hair will find it a little challenging to keep it neat and in place through the sporadic rain showers and steamy weather that is July/August in Tokyo.

If this sounds like you, then I suggest you try a few drops of Moroccan Oil's "Light" formula, rubbed into the palm of your hands before smoothing across the surface
of your hair, you will soon notice a level of control you wouldn't believe possible if you have not tried it.

This "Light" formula, as opposed to to Original is extremely user friendly and readily absorbed into the hair. It is literally one of the best anti-humectant products 
I have used to date that is not easily seen or leaves an oily finish on the surface of the hair.

Next time your in the salon ask for a little to be used at the finish of your blow-dry and see for yourself just how light and effective this product truly is.
Sometimes the best styling tools are found in a bottle!