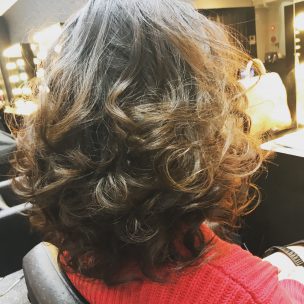 Michelle just jetted in this morning from London, first stop Gold for some vavoom hair before the serious shopping spree starts….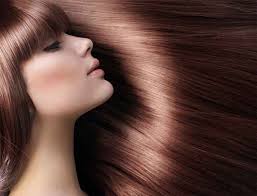 B.K.T Information.
Brazilian Keratin Treatment (BKT) is a revolutionary professional salon service
that for so many people becomes a real "game changer" when it comes to styling hair at home.
As it is a relatively new genre of hairdressing service (approx12 years since it's first commercial formulation)
BKT's formulas and processes have undergone many changes and refinements
and are still developing year by year.
Below, I will outline the effects you can expect from a BKT service
and hopefully dispel some of the myths too.
What is BKT?
Firstly, BKT is not a straightening service!
Rather, it is what we refer to as a "Smoothing Treatment".
You can expect a major reduction in your hair's frizziness and fluffiness and in many cases it will deliver a slightly straighter result but it can not be relied upon to achieve straight hair as would be the case when having a straight perm or Japanese straightening for example.

Who should have a BKT?
BKT is best suited to someone who regularly blowdries their hair straight as a support service.
After BKT you should find your blowdrying time reduced significantly and the
ability of your hair to hold and maintain the blowdried finish enhanced dramatically.
It is unrealistic to expect that after BKT you would not need to blow-dry your hair
and that it would air dry smoothly by itself, this is very important to understand and consider.
Does BKT damage the hair?
No, BKT does not damage hair but as it is a protein based treatment,
from time to time people feel their hair is less soft which is a characterization of any "protein" based treatment.
Keratin protein not only protects and strengthens hair but hardens it also.
The coating of Keratin along the hair shaft that is the hallmark of any BKT
provides a protective barrier against further damage as well as an insulation layer against humidity.

How long does BKT last?
Approx 3 months if maintained with a non Sodium Chloride shampoo,
If your shampoo contains Sodium Chloride we can not guarantee the treatment.
In many cases BKT has been known to be effective for longer periods
sometimes beyond six months but 3 months is considered average.

Will BKT effect my colour?
If your hair is salon coloured, depending on what kind of colouring you have ,
you may experience lightening, fading or a shift in tone (blondes becoming warmer for example)
and may want to set up your colour appointment very soon after your BKT,
please ask your stylist what might be the specific after-effect for your particular hair.

How much is a BKT service?
We categorize BKT into three different price points
These prices exclude Govt Tax (currently 8%)
Short hair: hair to the bottom of the ear lobes  23,000yen
Medium hair : bottom of the ear lobes to just touching the shoulder 28,000yen
Long hair from the shoulders down  33,000yen

We also reserve the right to add a minimum extra charge of 2,500yen to any BKT service for extremely
long hair and/or very thick hair where excessive BKT solution was needed to get the result.
As I mentioned earlier, BKT has undergone many formulation changes and refinements.
Gold's BKT formula is FDA approved.
Early BKT formulas contained very high levels of some dangerous chemical compounds particularly Formaldehyde.
High level Formaldehyde BKT solutions have been largely outlawed in most countries
but still seem to be available in much of South East Asia, India and the Middle East.
These high Formaldehyde formulas give a much more effective result, not only in relation to smoothing but also straightening too.

Some results I have seen on hair done in these countries have more of an appearance of chemically straightened hair as opposed to BKT in as much the hair treated never returns to it's natural wavy state and also often feels chemically damaged.
If you have had a BKT in another country, you must understand that the results achievable from our BKT are limited to the formulas we are allowed to use by law, Unfortunately if you have had BKT in any of those regions mentioned you may find our BKT less effective than you expect.

Any further question about the above or anything else please feel free to ask your stylist.
Thank You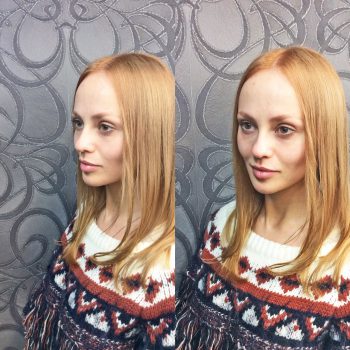 New client Katerina was a little bored with her bleach blonde look leftover from Summer, this copper/gold rinse did the trick to give her a richer, warmer more Wintry look. Lana got the colour she wanted first visit, next time a trim up and maybe some extensions for extra volume??  
Hair Color by Lana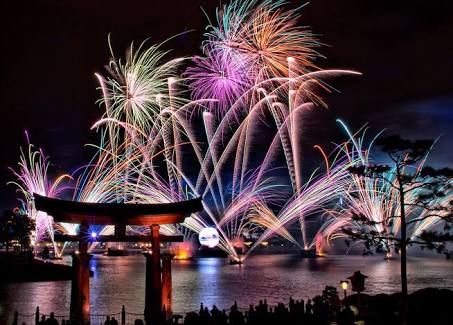 Our very best wishes to all our clients and friends for the holidays, we hope 2017 brings you all your deepest desires and a few fun surprises too!
our salon will close at 6pm 31/12/16 and re-open again at 10am 4/1/17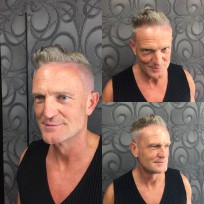 This Australian Gent wanted to update his hair with a splash of colour,
with his blue eyes and tanned complexion we opted for a steely platinum to give him an edgier sophisticated look.
It's always a pleasure when someone entrusts you with such a major change, thankfully he was delighted with the result.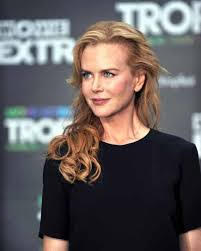 Is your hairstyle ageing you? 
It's not always that easy to readily identify a bad hairstyle, particularly on oneself and unless you have a 
completely butchered haircut, you probably think everything is going O.K with your current look. 
Ask yourself, when was the last time I updated my hair?
If it takes you more than a couple of seconds to answer that you may want to read on.
One common mistake is not getting your hair reshaped frequently enough.
On average your hair needs cutting approximately every six weeks.
This is not some arbitrary number but decades of experience has taught me that clients I see that have their hair cut with less frequency, say 8 weeks or more, invariably remark" I should have had this cut done weeks ago!" Which begs the question "How have you been looking these past few weeks?"
Just as Men over about 40~45 should be careful about the instant ageing effect of not shaving daily, designer stubble is best kept for the younger guy,
a grown out haircut that has lost it's freshness is something to pay particular attention to avoid.
Is your cut working for you, does it have a contemporary flavour to it?, even the most classic haircut can be given a fresh twist,
explore options with your stylist and remember, a change doesn't always mean you need to become a completely different person,
an enhanced version of who you already are is often  subtle and sufficient.
Styling tip, Try to keep a casualness to your styling, don't finish your hair off too perfectly,  
if possible, at the finish, use your hands a little more to place your hair rather than brushing it into a severe perfect finish,
Also, don't "over do it" with the hairspray, sexy, youthful hair moves.
The ultimate Ager
Colour is a category that I could write reams on but two things come to mind when it comes to hair colour that ages,
 1)  Make sure your base colour is not too dark, by a certain age, you should be careful using the natural colour 
of your youth as a reference to which colour you are going to use to cover those pesky greys.
As you age and your hair naturally lightens by an increase in grey, your skin tone also changes to balance that
so keeping it too dark not only creates a strong contrast as the new hair grows through, regrowth,
but likely  no longer suits your changed complexion/skin tone.
2) The same can be said of being too blonde, I recommend a darker blonde base colour with some light blonde highlights
which will look much  softer on a mature skin tone than heavy blonde alone.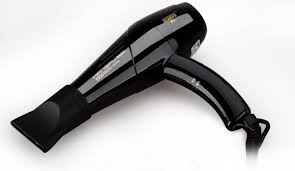 Producing a Salon quality Blowout.
I'm going to condense this tip into five very important steps, perfecting these will require the time you take and repetition using the steps below,
1) The right Blowdryer, I can't begin to imagine how difficult it must be to use a dryer with a heat and air flow that feels more like a summer breeze. You need at least 1800 watts of power and multiple heat settings. Use medium heat for pre-drying and high heat when you start working with the brush to manipulate the shape of the hair. Always finish with cold setting to close the cuticle and set in your efforts.
2) Nozzle, never discard this, the little accessory on the end of your dryer is invaluable, It is the key to getting enough heat on the hair to smooth whilst creating a buffer so you don't scorch it.
3)Round Brush, Straightens, makes ends flip, creates waves and builds body into fine hair. Remember to save time the larger the surface area, the quicker the result, brushes with vents save even more time!
4) Hair-clips. Keeps your layers separate allowing you to start underneath where any successful blowout starts. Also helps you to avoid over-drying sections leading to damage. If you need any of the tools mentioned above, just ask us and we can source the very best available to suit your hair and current hairstyle.
5)Last but definitely not least, correct styling products. Using the correct styling products for the desired effect and your hair type is invaluable to getting a really great result when styling your hair, there are so many products for everything from body building to smoothing that finding the product just right for you is something you should discuss with your stylist who can not only make a suitable recommendation but also show you how to use it to gain the maximum effect and benefit.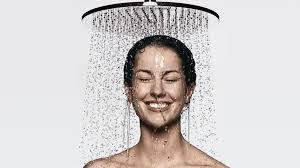 O.K., so before you hit the beach or start pool crawling, 
pay a little thought to how best to protect your hair from the potentially hazardous cocktail of highly chlorinated water and the summer U.V rays.

The very first thing to remember before you go swimming anywhere and this includes the beach
is that your hair only has the ability to absorb a certain amount of water. 
So taking this one small fact into account, it is of the upmost importance that you fill your hair with
the least damaging water you can find.

For anyone who finds it a little extreme to wet their hair with bottled water, don't laugh, 
I have a good friend who does this religiously before she swims, the water from the shower is certainly
less chlorinated than what is used in pools so I recommend you wet your hair completely with the
shower water before entering the pool or ocean for that matter.

After your swim, once again rinse your hair thoroughly to remove any pool water that may have
leeched it's way into your hair, this step is also good for getting the pool water off your body, thus
protecting your skin.
Another useful tip is after pre-wetting your hair, apply a liberal amount of hair serum, we like
Moroccan Oil for this task. 

The silicones found in the serum will aid in sealing the hair from penetration of the chlorinated water.
After your day poolside it is essential that you shampoo your hair and condition it well, 
by well I mean leave the conditioner in your hair at least 5~10 minutes.

Alternatively use a hair mask if you have one available. Never allow saltwater or chlorinated pool
water to dry into your hair and sit there overnight!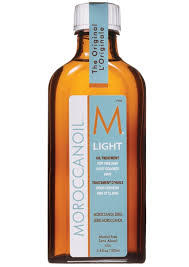 At this time of year with upwards of 80% ambient humidity the real challenge of keeping a smooth, unruffled appearance is put to the test.
No matter how nicely I press my shirt before wearing it I only need to sit in a chair somewhere under air-conditioned, and the back of my shirt will end up looking like I wore it to bed last night.

Same thing happens with hair, even those of us with naturally smooth, problem free hair will find it a little challenging to keep it neat and in place through the sporadic rain showers and steamy weather that is July/August in Tokyo.

If this sounds like you, then I suggest you try a few drops of Moroccan Oil's "Light" formula, rubbed into the palm of your hands before smoothing across the surface
of your hair, you will soon notice a level of control you wouldn't believe possible if you have not tried it.

This "Light" formula, as opposed to to Original is extremely user friendly and readily absorbed into the hair. It is literally one of the best anti-humectant products 
I have used to date that is not easily seen or leaves an oily finish on the surface of the hair.

Next time your in the salon ask for a little to be used at the finish of your blow-dry and see for yourself just how light and effective this product truly is.
Sometimes the best styling tools are found in a bottle!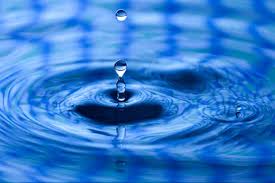 Dealing with Hair and Chlorine.
When someone brings up the subject of hair and chlorine most of us invariably assume that this is a discussion for those who swim a lot, especially anyone with blonde hair.

And in most countries that assumption would be accurate.
Unfortunately Japan's water supply is kept bacteria free and "safe" to drink by the addition of what appears to be a very heavy concentration of added chlorine.

I can't remember how many newcomers to Tokyo have remarked to me over the years about the sudden dryness and unmanageability of their hair in the first few months of moving to Tokyo.

Chlorine I'm sure is the lesser of two evils when it comes to having it in
 your water supply over having billions of micro organisms, with the potential to make anyone consuming them sick or worst.

That being said,  I also believe some small strategies need to be implemented
on a personal level to combat it's negative effect on ones hair.

I have not only felt the drying effect this chemical has on hair but also seen some very strange dis-colorations that I have never seen elsewhere, particularly in blondes, which are like the "canary in the mine" when it comes to early detection of anything destructive to hair, in particular chlorine and metals such as Copper (turning hair blue/green) and Iron (turning hair orange).

Don't laugh, I've seen two examples of this in the past three weeks.
Enough about what the problem is, let's move onto a couple of things you can do to counter these effects.


1) Regularly Clarify or deep cleanse your hair. Do this by adding a weekly or bi-weekly deep cleanse to your hair care regime.

Two shampoos with a deep cleanser , leaving the second shampoo on your hair for 3~5 minutes, aids in removing build up from products you use daily to style your hair and/or silicones found often in conditioners as well as chlorine and to some degree heavy metals that may also be absorbed from the water you shampoo your hair with. We have these shampoos at Gold if necessary.


2) This step is easier performed as the weather gets warmer and that is washing
your hair with the coolest temperature you are comfortable using.
The hotter the water, the greater the opening of the hairs cuticle layer and then the deeper the absorption of any unwanted trace elements found in the water you use.


3) Last but most definitely not least, the changing of your shower head to one with a built in filter. You may lose a little water pressure but I'm sure you'll notice a large improvement in not only how your hair feels, but also your skin as well. I use at home and recommend "The Crystal Shower Head".

This filter removes twelve different chemicals, heavy metals and chlorine as well as dangerous bacteria and micro organisms.
Made in the U.S.A, the Crystal fits easily to most Japanese standard shower fittings. Just screw off your shower head and screw their's on. The filter will last you about six months.


Get yours on Amazon, EBay or Rakuten with overnight delivery (click the link below),
no I'm not on commission with these guys, but come to think of it, I should be!