Straightening / Smoothing
Summer Hair Survival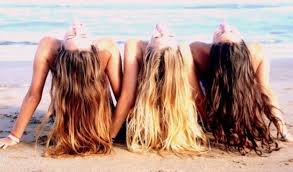 Protecting your hair from the Summer Sun.
Summer, a great time of year to frolic, relax and play, but hot, long summer days can really play havoc on your tresses.
Exposure to high temperatures, direct sunlight and U.V, humidity, chlorine and/or salt water…..well you get the picture.
The main complaints I hear over the summer are usually associated with dryness, frizziness and discolouration, but this need not be your reality with just a few small changes to your home hair care routine.
Firstly try to shampoo less, you probably feel like doing the opposite but frequent shampooing can rob your hair of it's natural oils leading to dryer, frizzier hair,
cut back on your shampooing whenever possible.
Next look at what you are currently using on your hair and consider if there are gentler options, many people switch their skincare products as they move into Summer, the same consideration should also be applied to your hair and the products you use.
Also re-think some of the harsher chemical services you may be planning until the Summer is over to minimise the impact those chemicals are going to have on your hair without adding the extra stress of Summer to the mix,
I'm especially thinking of processes like chemical straightening as I write this.
Condition, Condition and Condition!
Up the quality of the conditioner you're already using, perhaps switch to a "leave in" product for extra protection and if you are not already doing this, a weekly hair mask, bi-weekly if necessary will make a massive difference to how your hair feels after Summer has retreated and your tan has faded, don't let the biggest reminder of what a great Summer you just had be a head of dehydrated, bleached out, frizzy hair,
Oh, almost forgot a couple more things, leave your conditioner in for a MINIMUM of 5 minutes and try whenever possible to lay off the heated hair tools and allow yourself a natural dry, with the correct use of the right products and a few tips from your stylist, you should be able to achieve a look that embraces the casualness of Summer whilst still lending itself an air of sophistication.
Also before swimming pre-saturate your hair,  hair can only absorb so much moisture so make that moisture from the shower and not the pool or sea.