Hair Extensions
Hero Product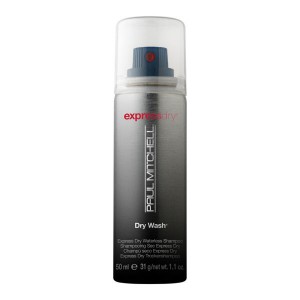 Ever went out for a big night clubbing, hitting the dance floors, getting your groove on, sexy dress, cha cha heels, hours spent getting your hair looking just truly fabulous, you know what I'm talking about?
Only to find that after a couple of dances/ hours inside a hot, sweaty club your hair looks anything but fabulous and all your hair styling efforts have gone south? 

Lots of great waterproof makeup on the market these days making sure no matter how hot and sticky things get, your makeup won't let you down.
The same unfortunately cannot be said for hair products, well at least till now.

I've started using a product by Paul Mitchell in a way that I'm sure they never intended. 
Paul Mitchell's "Express Dry" is a modern take on a dry shampoo, those are the products designed to freshen your hair without washing it, 
basically a fine powder is applied to mop up perspiration and scalp oil so as to extend your frequency of shampooing a further day or two.
Great for anyone who travels a lot or convalescing in hospital.

Anyway, it occurred to me lately, if these dry shampoos, like express dry, do such a good job of mopping up oil and moisture from hair that needs to be shampooed, how about putting it in the hair when its clean and dry so when the perspiration or natural oils start making an appearance, 
the dry shampoo takes care of the issue before it starts? Guess what, this work a treat! 
Just spray it all throughout your hair, paying particular attention to the underneath hair and the root area that usually gets the hottest and sweatiest
and just wait and see what a difference this little idea makes to how your hair looks as the dance floor heats up!

If you find that using this product robs your hair of shine and lustre there are plenty of shine sprays that can be used in tandem with Express Dry to combat that effect. 
Just finish you application of Express Dry then give a light misting of shine spray like Glimmer Shine by Moroccanoil to replace the gloss, it's that easy! Needless to say, you can use this trick also on any sticky days to help combat the effects of humidity and or the sweaty train rush hour!

A style saver, particularly for anyone with fine hair.