Hair Extensions
Spring is in the Hair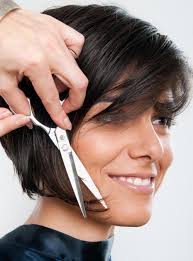 The thing I always notice in Spring, 
is the amount of people coming into the salon for something different, 

a major colour change, total haircut restyle or even
just a subtle difference by adding a few layers to one length hair, 
opting maybe a fringe/bangs, that kind of thing.
Before acting on the impulse to brace the new, 
there are two pieces of advice I'd like to share with you,


the first is research, by that I mean spend a little time online putting together
a photo essay of the kind of look you would like to have.
You can even compile pics of the kind of look you don't want.


If it's based on a celebrity then find photos of her/him
taken by as many different people as possible to see the look in
it's many varied incantations.
Look realistically and objectively at the hair you desire
and try to judge if your hair is similar or able to sit like your subjects hair.


So much can be achieved in the salon in relation to shape,
colour or texture but it's important that you are aware
of the level of daily upkeep and maintenance necessary
to keep it looking as you want.
This brings me to the second piece of advice, 
a lengthy consultation with your stylist to ascertain 
the suitability of your desired look to your face shape, 
skin tone and/or hair texture.
Bring all your research pictures and request an extra 15 minutes
added to your appointment when booking to go over
your ideas together with your stylist to get the best possible understanding of
what will not only suit you, but how suitable your desired new look
may be for your own skills, so at home you can recreate what was achieved in salon.
A change is often a good thing, a successful change is simply wonderful!