Hair Extensions
#MorroccanOilrocks!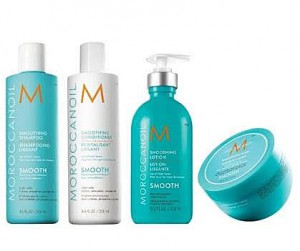 New range from our friends at MoroccanOil, "Smooth", got unruly hair that just won't sit down and behave itself, your best blowout efforts just frizzes out and fluffs up within minutes of subjecting it to the ambient humidity that's already started and will be with us at least till October? 

Well the industries number one product line for smoothing hair just turned up the heat in this not insignificant hair issue with their new line "Smooth" and early reports are that it really lives up to it's name.

The line includes a 300ml shampoo, 300ml conditioner, 250ml Smoothing Mask and a pre-blowout 300ml Smoothing lotion that seals and protects.

So to spare you all the marketing hype may I just suggest that if you struggle with frizzy or fluffy hair, particularly as the humidity builds, give "Smooth" a try and
see if it brings you any joy, and if you're not happy with the result after the first few washes, bring it back in and we will swap it for another product in the MoroccanOil line. 
No risks with all the glory.
#hairdresserstokyo,#hairsalonstokyo,#morroccanoil,