Hair Extensions
Hero hair tool!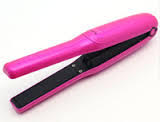 So you've given it your all but those pesky little frizzy curls near your face just won't smooth out and give your valiant efforts the respect you deserve
Time to get out the "Big Guns" or in this case the little gun, in the form of a mini straight iron.
For some people, there are certain parts of ones head that it's quite difficult to get smooth due to the fact that the hair there is either too fine and frizzy,
too short or in many cases a combination of the two.
Regular sized straight iron are just sometimes too bulky and cumbersome to give you the control you need. No problem, just add to your styling tool arsenal a set of mini straight irons and you will not believe just how much easier it is to get those errant little crazy hairline curls under control.
Available from the salon, inexpensive and we are more than happy to show you how to use them to their best effect.
I certainly can't make hair look good without the right tools, I'm sure most of you can't either!