Hair Extensions
Hair Tip!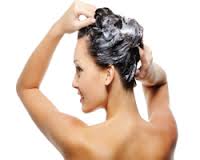 Another posting by Tokyo's leading foreign hair, English speaking hair salon.

"What Great, New, Revolutionary hair product is he going to introduce to me now"? 
In short, Nothing!
There are many great products on the market, sold at Gold or elsewhere
that will make your hair smooth, shiny and fantastic.
What I want to talk about here today is rather something you should perhaps do
less of rather than more,and that is shampooing.

In my opinion, 
many people's hair presents as dry and thirsty not only because of chemical services,
heated styling tools and/or over exposure to harsh sunlight.
A far more subtle, pervasive damage occurs to hair that is washed too frequently.
Excessive shampooing can lead to dehydration of the scalp causing 
what is often mistaken for Dandruff.

It is also a contributing factor, particularly in longer hair, to dry, wiry ends that often split.
Frequent shampooing for those individuals that have an oily scalp
just creates further stimulation of the sebaceous glands exacerbating
an already over production of sebum that is occurring naturally.

So if you currently wash your hair everyday, try cutting back to every other day, 
If you already wash your hair every other day, try cutting back to twice a week
and if you already wash it twice a week and it presents any of the issues
I mentioned above then if possible once a week may be adequate.

Also remember one very important point, a cheap, poor quality conditioner
will probably only fail to condition your hair adequately,
whereas a cheap, poor quality, highly detergent type shampoo can cause
far greater problems concerning the hair and scalps overall
and also go on to not only strip the natural oils and moisture
but also remove hair pigment, particularly artificial pigment,
leaving hair looking dull, faded and lifeless.
Make investing in quality haircare, particularly shampoo a priority, you'll soon notice a real difference!
Howard