Owner's Career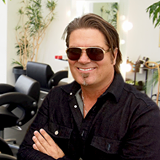 Howard Lee Regner
In the Late 70s, I started a four year Hairdressing apprenticeship with one of Australia's leading salon groups, Intensive training under two British ex Vidal Sassoon stylists taught me very clear, precise cutting techniques with a strong emphasis on "wearability" (haircut matches natural hair texture and fall) and "suitability" (complements and enhances the client's facial feature's and lifestyle) This very thorough and practical approach to hairdressing and especially cutting has given me a strong base to build further skills upon.
I believe the people you work with in those first, formative years of your career have a massive influence on the level of hairdresser you will become and what you can hope to achieve in your chosen career.
Early 80s, Training at Vidal Sassoon London and working in a London Salon before furthering my training in Paris at Jean Louis Deforges.
On returning to Australia I took a position with what could be best described as Sydney's coolest post modern, avant garde/punk salon, firing up my imagination and challenging both my skill level and creative vision on an hourly basis. A lot of creative people and artists came through that salon as well as entertainment personalities and actors, and the creme of the city's Drag culture. It was in that salon that I worked on a very young struggling actor from a small theatre company that would go on to become one of the world's biggest stars of the 80s, Mel Gibson.
After a time I moved onto another salon that was very well connected with media and fashion magazines, in that salon I had the pleasure of styling hair for several Australian magazines including Australian Vogue. Several film projects came my way and I built up a very good relationship at that time with a new force in Australian cinema, Academy Award winning director, Jane Campion.
It was really a lot of fun working on film projects to achieve the directors vision of how the characters should look. In that salon I had the pleasure of working on Actress Nicole Kidman, Actor Hugo Weaving, Rock legend and actor Phil Collins and Disco diva Thelma Houston and the cast of the Australian stage production of Fame, The Musical, as well as so many other talented people from the theatre and film world.
I would also regularly do styling for runway shows, wig styling for leading fashion retailers and session styling.
Late 80s I moved to Tokyo for two years working for a short time in a salon, doing editorial shoots and mostly freelancing.
On my return to Australia in late 1990, I started my own salon in the city centre, which developed a great client base with everyone from fashion and design magazine editors to politicians, society ladies, models as well as everyday people just looking for an unpretentious salon to get a really good haircut or colour in.
After building that salon into a team of over 25 staff, I then decided to sell it and take myself back to Tokyo for a change of scene. On my return to Tokyo, I spent over four years as a director of a famous Tokyo "Gaijin" (Foreigners / expats) salon, In that salon a lot of touring musicians and actors came through our doors.It was in that salon I met and styled the hair for the late Brittany Murphy for a film she was shooting in Tokyo, "Ramen girl", and worked as personal Hairstylist to world famous magician/illusionist Cyril Takayama.
I once again felt the compulsion to start a new venture but as I was happy living in Japan, I thought the challenge of setting up a salon in Tokyo would be both interesting and rewarding.
So in 2008 with the great help of my partner Yoko Yamamoto, I established "Gold" which has gone on to become Tokyo's leading English speaking, foreign hair specialist salon.
With over 30 years spent in this wonderful industry, I have had the privilege and pleasure of not only working beside some of the world's most fantastically skilled hairdressers but have also received the trust of so many amazing people from all walks of life, leaving me feeling both fortunate and humble to have chosen a career in hairdressing.